Just Cause 3: Day One Edition (with Arabic Language) - PS4 Game
fulfilled By :
3rood Express
Quick Overview



Region: PAL.

Rated; 18+ for ages 18 and older.

Publisher: Square Enix.

Developer: Avalanche Studios.

The Day One Edition includes the Weaponized Vehicle Pack.

Also includes a FREE DLC for Just Cause 2 Game

The game features Arabic language as well
Why to buy Just Cause 3: Day One Edition (with Arabic Language) - PS4 Game :

Plenty of ground to cover
The fictional island of Medici has approximately 400 square miles of terrain to explore, complete with cities, smaller villages and white sandy beaches. The best part? Rico is able to reach his objectives however you want. Approach from the air via wing suit or travel by speedboat, crashing into a nearby guard station. Perhaps you prefer a more direct approach, using his grappling hook to climb up a mountain and then descend from the other side, where enemies won't see him coming. It's this sort of open-ended philosophy and the chaos that comes with it that takes Just Cause 3 to a level above other games in the genre. Sometimes the objectives are small – obtain information to move forward in a mission – and other times you're tasked with something greater, like destroying a base. But the sheer freedom to complete these objectives numerous ways adds plenty of diversity we don't often see from the competition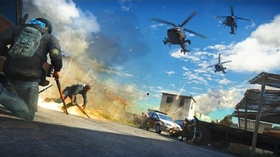 Scenarios are limitless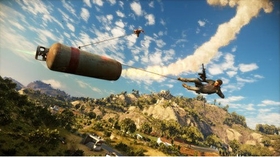 For instance, let's say you need to blow up some gasoline tanks. You can easily blast them to bits using a rocket launcher, but there's also the ability to surf a fighter jet as you approach the tanks, then jump off and grapple (or fly) to safety. Sometimes you'll need to plan ahead to complete these objectives – fighter jets don't come easy without opposition getting in the way – but the payoff is certainly worth it, as you watch an objective crumble to ash with minimal effort
Execute and watch your plan
If you prefer, there's plenty happening on the ground, as you can engage in shootouts with soldiers or take to the open road, where you can easily bring down a convoy with an unmanned vehicle and your grappling hook, which offers outstanding verticality. Again, ingenuity plays a big role in this game, and watching the results of your planned destruction is a lot of fun. For instance, attaching sticky mines to a helicopter and then plummeting hundreds of feet to the ground while watching the chopper blow up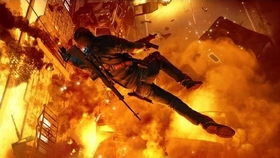 A whole new world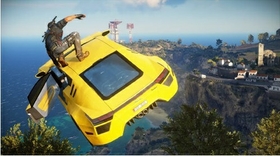 Just Cause 3 has plenty of trouble to get into, whether you're taking on a suicide mission to send a base into mayhem or simply want to drive across the countryside in a sports car and bust up enemy checkpoints; there's also a heavily-armored tank in case you crave something with added punch. Hey, for all we know, perhaps you want to admire the beautiful visuals, fondly reminiscing about that Italian holiday you experienced a short time ago. Regardless of your approach, with all the tools available and miles of terrain to run through, consider Just Cause 3 your personal playground for destruction
Weaponized Vehicle Pack Included
The Weaponized Vehicle Pack is a DLC for the open world action game Just Cause 3: Day One Edition that grants you access to three heavily armed vehicles as bonus contents in the game. The Mugello Delphino GLF Speedboat comes equipped with two miniguns, the Urga Pocomaxa X4 Buggy boasts a firmly mounted MG, and the Kerner Serpente R12 sports car, including an installed rocket launcher, makes you feel like a true oldschool secret agent. Immerse yourself in the world with the new versatile terrain system with your Vehicle Pack which adds more realistic, 3D formations and provides caves, tunnels, overhangs, vertical cliffs and more for an incredibly authentic environment!
Just Cause 2 DLC Included
On purchasing the Just Cause 3: Day One Edition you can avail the FREE Just Cause 2 Full Game DLC instantly. Just Cause 2 is a stunning technological leap from the original - Designed with 2nd generation software technology for a true high definition gaming experience. New level of action gameplay in open environments. On the island nation of Panau, rival gangs wage war in the streets while the ruthless dictator Baby Panay exercises a system of oppression and corruption against his own people. Somewhere on the island, your friend and mentor Tom Sheldon has disappeared with top-secret intel and millions in Agency cash. As Rico Rodriguez, the Agency's most dangerous weapon, you must infiltrate the island and locate Sheldon, setting off a violent chain of events that will set Panau ablaze