Kung Fu Panda: Showdown of Legendary Legends - PlayStation 4 Game
fulfilled By :
3rood Express
Quick Overview
Genre: Action and Adventure
Region:PAL
Rated: 7+
Publiser: Little Orbit
Developer: Vicious Cycle
20 characters with unique fighting styles and special "Awesome Attacks"
Single player and 4 player local and online multiplayer game modes
Kung Fu Brawler competition
Why to buy Kung Fu Panda: Showdown of Legendary Legends - PlayStation 4 Game :
Your Favourite Movie Is Now A Game!
You've watched the movies and the popular animated series, and you dream of finding the hero inside just like Po and his friends. With Kung Fu Panda: Showdown of Legendary Legends, it's your turn to unleash your most awesome powers to establish dominance in the Valley of Peace. Join your favorite characters, including Po, Tigress, Monkey, Tai Lung and more as you go head-to-head in high-flying, hard-hitting battles across a variety of locations in stunning 3D environments. Test your skills in basic levels, then tackle the challenges of moving and danger levels. Learn your distinctive fighting style with unique attacks and moves — as well as a powerful Awesome Attack — and snag a companion item to summon companion characters to help you defeat tough foes. Become a lone hero, team up with friends or face off in heated rivalries with single-player and multiplayer options. It's time to fulfill your ultimate destiny and prove you're the most legendary legend of all time.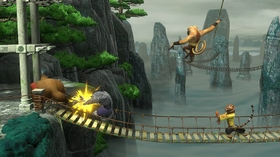 Unleash Your Power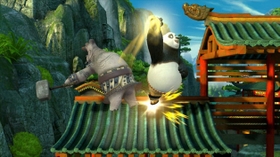 Achieve honor and glory as you brawl your way across the Valley of Peace with your favorite characters from Kung Fu Panda and Legends of Awesomeness. Team up with your favorite characters with a roster of 24 beloved heroes and fearsome villains, including Po, Tigress, Monkey, Tai Lung, Master Shifu and more, plus four new unlockable DLC characters from Kung Fu Panda 3. Wage battles in lush 3D environments with 12 familiar locations and the ability to unlock three all-new DLC locations as you play
Show Off Your Fighting Skills
Duke it out with opponents and a hostile environment in danger levels, where you may face crumbling, changing and collapsing platforms and cannons and other threats determined to knock you out of the world. Develop a unique fighting style with special attacks and distinctive moves, plus a mind-blowing Awesome Attack, for each character.Boost your power with companion characters who appear when you pick up a companion item and perform a special attack against your opponent before disappearing.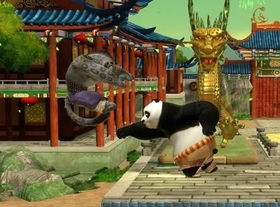 Multiplayer & Online Modes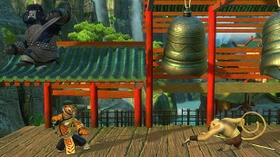 See how you measure up with leaderboards that display the rankings of top players and your current position. Test your skills alone in single-player mode with practice, tutorial and tournament options Share the fun with up to three friends in multiplayer mode with versus, team battle, ranked matches and nonranked matches both locally and online